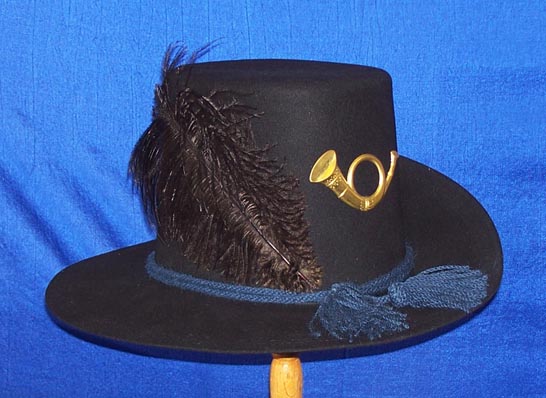 *Infantry Hats were always folded on the left until 1868. All other branches of services were folded on the right.

The model 1858 dress hat commonly called a hardee hat by reenactors, began in 1855 as a cavalry hat, which included a chin strap and draped with cords.






A representative of our national government, Mr. Charles
Semner, while visiting Denmark, saw the Danish Cavalry
wearing a hat complete with plumes and chin straps, which impressed him. Upon his return, he heartily suggested what became the US Army Dress hat as an alternative to the slow
to make and uncomfortable to wear M1854 Shako.

The crown shape block for the 1855 hat, as well as other variations, continued through 1872. Termed the M1858 Army hat, variations included height of crown from 5.5 to 6.5 inches and brim widths from 2.75 to 3.5 inches, with two rows of stitches on the outside edge of the brim and black oil cloth or painted cloth interior crown reinforcement.